The View from Here: Landscape Photography from the National Galleries of Scotland
Three aerial images made by Patricia + Angus Macdonald featured in The View from Here, the exhibition of landscape photography from the permanent collections of the National Galleries of Scotland (NGS) recently on show in the Scottish National Portrait Gallery (SNPG), Edinburgh (29 October 2016 – 30 April 2017). One of these images was chosen as the poster for the show, seen below.
 www.nationalgalleries.org  > What's On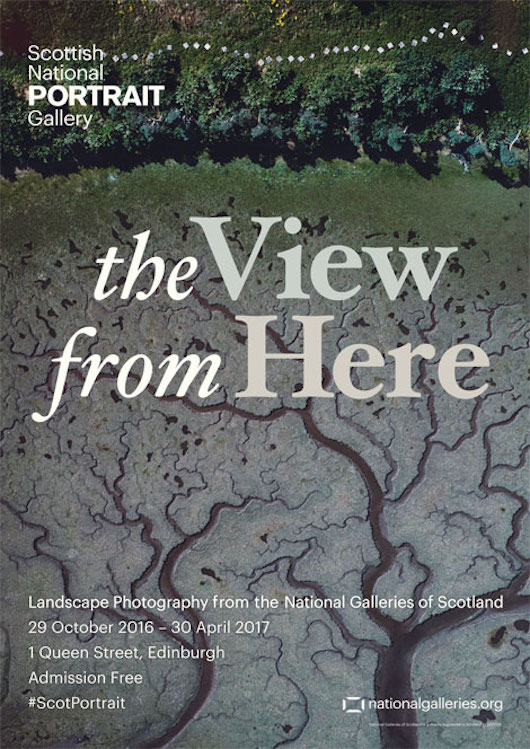 Each of the three featured images raises interesting questions about the characteristics and role of aerial photography in present-day environmental record, artwork, interpretation and activism.
Patricia Macdonald explored these questions, together with ground-based imagery and further aerial material from the same locations from different years, and other related material, in a public lecture with the title 'Aerial views: Ground Truths?' in the SNPG on 1 March 2017 as part of the NGS interpretation programme for the exhibition.
She investigated similar questions with a postgraduate class in Edinburgh College of Art (in a Masterclass and workshop: 'Tales from the Unwild', 16 March 2017, as part of the Architectural Conservation MSc World Heritage programme), focussing on current, controversial and widespread environmental issues in Scotland.
Several of these issues relate to various aspects of ecological disturbance and resilience discussed in another exhibition and related publication, After the Storm at the Royal Botanic Garden Edinburgh, with which Patricia + Angus Macdonald have also been involved. One of the images shown in The View from Here forms the starting point for the time-lapse aerial triptych that was their contribution to After the Storm (see triptych piece below, and separate Update post above).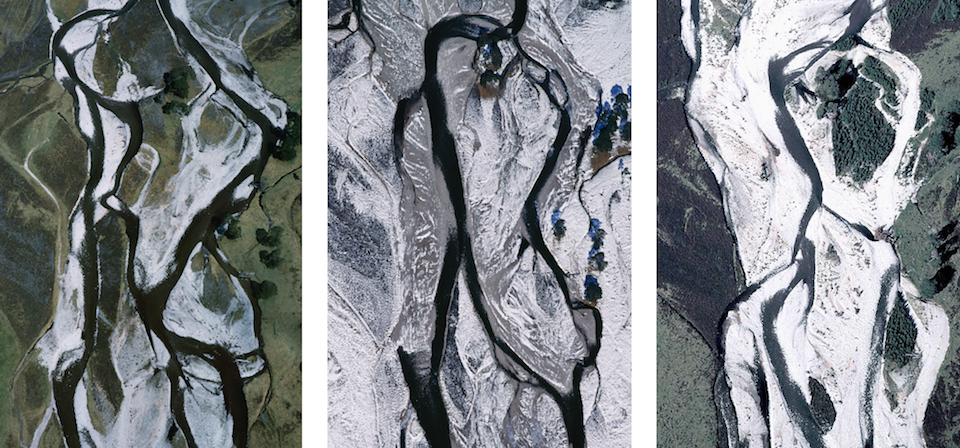 Braided river and Caledonian pines, Glen Feshie, Cairngorms, Scotland, 57° 00' 25" N, 3° 54' 15" W (triptych): [left to right] #1: 1988; #2: 1995; #3: 2016, from the ongoing, long-running project Re:Wild   Patricia Macdonald in collaboration with Angus Macdonald
National Galleries of Scotland: What's On, January 2017: