Exhibitions; Awards / Commissions; Collections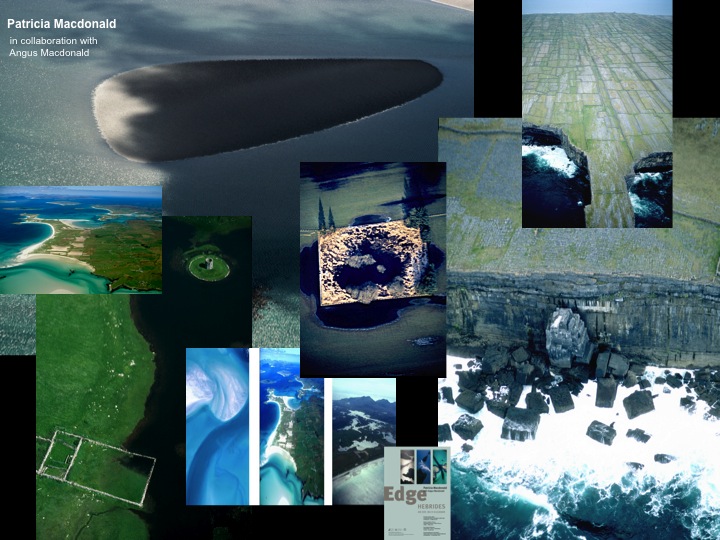 The environmental aerial artwork imagery of Patricia + Angus Macdonald has been exhibited in museums and galleries internationally, either in the form of solo shows, or as invited contributions to group shows. It has been extensively purchased or commissioned by public and private clients for display in a range of internal environments from museums / galleries to hospitals and government buildings to private houses and offices.
Artworks are for sale, and may be produced in a range of sizes – single images, and the components of diptychs / triptychs, from 40 x 60 cm to 66 x 100 cm, and large composite works up to wall-sized pieces – and in a range of archival print media (details and prices on application).
Please see the lists below for details: 
Selected Exhibitions; Art / Photography Awards / Commissions; and Collections.
See Portfolios pages for examples of images.
Selected Exhibitions:
Solo and dual (two-person) shows include:
2009/11: 'Changing Environments' project: 'Edge: Hebrides' & 'Wood: New Leaf' (commissioned by National Galleries of Scotland/Scottish Government/Highland Council. First shown in Scotland House and in the European Parliament, Brussels; tour in Scotland & elsewhere in Europe
2001/3: 'Air works' and 'Once in Europa', Talbot Rice Gallery, Edinburgh (during Edinburgh International Festival); BCA (Boukamel Contemporary Art), London; MAC (Midland Arts Centre), Birmingham
2000: 'Recent aerial works', Roger Billcliffe Gallery, Glasgow
1999: (Dual) 'Observations: Aerial photography by Patricia Macdonald and Marilyn Bridges', Museet for Fotokunst, Ødense and Möstings Hus, Copenhagen, Denmark
1999: (Dual) 'Patricia Macdonald & Susan Derges', Ingleby Gallery, Edinburgh
1996: 'Views of Gaia III', Taigh Chearsabhagh, North Uist, Western Isles
1995: 'Environments', The Scottish Executive headquarters, Victoria Quay, Edinburgh
1993-94: 'Views of Gaia II', British Council/Ministry of Culture, P R China, Beijing; Royal Palace Exhibition Hall, Beijing & China tour, 'Salt.Sand: Edge of Ocean, Edge of Dryness', Fotofeis/New Arts, Glasgow Art Gallery
1992: 'Views of Gaia I', British Council (for UK Presidency of EC), Charlemagne Building, Brussels
1991: 'Kunst Europa: 63 deutsche Kunstvereine zeigen Kunst aus 20 Landern', AdKV, Germany/ British Council, Kunstverein Pforzheim, Baden (with Julian Opie)
1990: 'Order & Chaos: Views of Gaia', Stills Gallery, Edinburgh & UK tour
1989: 'Shadow of Heaven', Photographers' Gallery, London & UK tour                
Group shows include:
2020: 'Imagining an Island', Taigh Chearsabhagh, North Uist, Western Isles (online: from 1 August: 'Imagining an Island' online gallery, linked from: https://www.taigh-chearsabhagh.org; and projection in gallery: 25-27 September (see: https://inthisdayandage.org/symposium-imagining-an-island)
2020: 'Elementary Blueprint', project by Stills: Centre for Photography, Edinburgh (a nationwide experiment using cyanotypes to produce a collaborative artwork created by the elements – see: https://www.stills.org/learning/projects/)
2020: 'RSA Annual 2020′, Royal Scottish Academy, Edinburgh: Invited Artists (due to Covid-19, this exhibition is only available to view as a virtual show – see Updates pages here, April 2020, for weblinks to RSA and reviews)
2018-19: 'Planes, Trains and Automobiles:Transportation Photographs from the National Galleries of Scotland', National Galleries of Scotland: Scottish National Portrait Gallery, Edinburgh
2018-19: 'In Focus: Scottish Photography', City Art Centre, Edinburgh
2018: '10 from the North/10 bho Tuath, An Lanntair, Stornoway, Lewis, Western Isles
2017: 'Postcards from the Anthropocene', University of Edinburgh/Edinburgh College of Art
2016-17: 'After the Storm', Royal Botanic Garden, Edinburgh
2016-17: 'The View from Here: Landscape Photography from the National Galleries of Scotland', National Galleries of Scotland: Scottish National Portrait Gallery, Edinburgh
2015 – : 'Drawing the natural world into the hospital', part of 'Working Well: People and Space', New South Glasgow Hospitals Beacon Project
2015: 'Ripples on the Pond', Gallery of Modern Art, Glasgow
2014: 'A Silvered Light: Scottish Art Photography from the City's Collection', McManus Art Gallery & Museum, Dundee
2012: 'Looking back at Earth: Contemporary Environmental Photography from the Hood Museum of Art's Collection', Hood Museum of Art, Dartmouth College, Hanover, New Hampshire, USA
2012/14: 'The Art of Golf', High Museum of Art, Altanta, USA/National Galleries of Scotland & USA tour
2012: 'Flight and the Artistic Imagination', Compton Verney, Warwickshire
2012: 'Art through a Lens', Kelvingrove Art Gallery and Museum, Glasgow
2008: '25 Years of Photography', National Galleries of Scotland: Scottish National Portrait Gallery
2007: 'An ever-fixed mark', University of St Andrews
2006/7: 'Fonn 's Duthchas/Land & Legacy', National Museums of Scotland/YHC 2007; Scotland tour
2006: 'Human/Nature', Gallery of Modern Art, Glasgow
2004: 'Ingleby Gallery at London Art Photography Fair', London
2004: 'Northern Light', Edinburgh City Art Centre, Edinburgh
2003/4: 'Ebb', Sabhail Mor Ostaig and An Tuireann Arts Centre, Skye & Northern Ireland tour
2003: 'Demarco Gallery/Festival of the Sea', Leith
2002: 'Four photographers', Ingleby Gallery, Edinburgh
2001: 'DIN Art 4', Museen für Kommunikation, Frankfurt, Berlin and Hamburg
2001: 'The Fine Art of Photography', National Galleries of Scotland, Edinburgh
2001: 'Narcissus: the self-portrait in the twentieth century', National Galleries of Scotland, Edinburgh
2001: 'Ingleby Gallery at Art2001', London
2000: 'Views from above', National Museums of Scotland/Millennium Festival of Flight
2000: 'Expressions', Aberdeen Art Gallery; McManus Galleries; Dundee Contemporary Arts
1995: 'Light from the Dark Room: A Celebration of Scottish Photography', National Galleries of Scotland, Edinburgh (images from collection & major new work commission)
1995: 'Volcano', Fruitmarket Gallery, Edinburgh
1995: 'Heartlands': (Edinburgh International Festival exhibition), Edinburgh City Art Centre, Edinburgh
1994: 'Shifting Boundaries', Signals Festival, Crawford Arts Centre, St Andrews
1994: 'Visions of the Ottoman Empire', National Galleries of Scotland, Edinburgh
1994: 'One Little Room … an Everywhere: a Photographer's Choice', National Galleries of Scotland, Edinburgh (exhibition selected by David Williams)
1993: 'Portfolio Selection '93: Scottish Contemporary Photographic Art', Portfolio, Edinburgh
1993: 'Exposure: Photographs from the Scottish Arts Council Collection', CCA, Glasgow
1993:'Art in the Airport: Terminal Two Project', Manchester International Airport, Manchester
1993:'Scotland Observed', National Galleries of Scotland, Edinburgh
1992: 'Dear Green Place: Question of Equilibrium': UK Exhibit, 18th Triennale di Milano, Milan
1992: 'Recent acquisitions in Photography: the 20th Century', National Galleries of Scotland, Edinburgh
1992: 'National Galleries of Scotland exhibit: SIME Fair', Grand Palais, Paris
1992: 'Scottish Portfolios', West Texas Photography Group, Abilene, USA;
Texas Commission on the Arts USA tour
1991: 'Regeneration 3': Sheffield Project, Untitled Gallery, Sheffield
1991: 'Thessaloniki Photography Festival', Thessaloniki
1991: 'Contemporary Art for Kelvingrove', Glasgow Museums and Art Galleries
1988 : 'Open Land', Portfolio Gallery, Edinburgh; tour
1987: 'New Light', Stills Gallery, Edinburgh
Art / Photography Awards / Commissions include:
2020: Invited Artists for 'RSA Annual 2020′, Royal Scottish Academy, Edinburgh (due to Covid-19, this exhibition is only available to view as a virtual show – see Updates pages, April 2020, for weblinks to RSA and reviews)
2016: Royal Botanic Garden Edinburgh: for exhibition 'After the Storm' (including essay and images for associated eponymous publication, edited by Ian Edwards, RBGE, 2017)
2014-15: New South Glasgow Hospitals: Beacon project, Glasgow
2011: National Galleries of Scotland/High Museum of Art, Atlanta, USA: for exhibition 'The Art of Golf': 'Bunkered terrain: Scottish golf landscapes'
2009: National Galleries of Scotland/Scottish Government/Highland Council for 'Green Week', Brussels and the European Parliament, & tour
2006/7: National Museums of Scotland
2003: Shortlisted (3 finalists) for MetOffice major commission for new Headquarters, Exeter
2002/6: Blair Atholl, Perthshire
2002/3: National Galleries of Scotland
2002: Mount Stuart Trust, Isle of Bute/Kate Whiteford (catalogue)
2000/1: Ardtornish, Morven
2000: National Museums of Scotland;
2000: Royal Fine Art Commission
1998/9: South Ayrshire Council
1997/8: Stirling Council/Thistle Centre
1994/5: National Galleries of Scotland
1995/6: Northern Arts/Kielder Reservoir, Northumberland;
1993: Manchester International Airport (Terminal II project)
1993: Glasgow Art Galleries and Museums/Fotofeis
1992: Triennale di Milano (UK Exhibit)
1990/1: Jellicoe Award: Landscape Design Trust/Northern Arts
1991: Sheffield Project ('Regeneration 3'), Untitled Gallery, Sheffield
1989: Photographers' Trust Fund Major Bursary (Photographers' Gallery, London)
1985/6: National Museums of Scotland
Collections (public & private worldwide):
Public / corporate collections include: 
(* indicates substantial holdings or major large composite artworks)
Victoria & Albert Museum, London
National Galleries of Scotland, Edinburgh **
National Museums of Scotland, Edinburgh
The Scottish Government, Edinburgh
Museet for Fotokunst, Ødense, Denmark
Hood Museum of Art, Dartmouth, New Hampshire, USA
Edinburgh City Art Centre, Edinburgh
Glasgow Art Galleries & Museums, Glasgow * 
McManus Art Gallery & Museum, Dundee 
Boswell Art Collection: University of St Andrews
China Photographers Association, Beijing, China *
Navigator Foundation, USA *
Turcan Connell *
Citibank 
Deutsche Bank  
Standard Life *