An example of a commissioned press project is shown below:
The spread seen immediately below comes from a Financial Times (FT) Weekend Magazine issue in which 10 photographers with an interest in the environment were invited to look at the present-day landscape of Britain and consider its possible futures.
Patricia + Angus Macdonald made aerial and ground-based imagery of two kinds of network within one multiple-use landscape: an upland area in the Lammermuirs in the Scottish Borders, which contains both one of the largest wind-farms in Europe, and, nearby, a woodland habitat network important both for wildlife and for recreation (seen in more detail in the lower image here), within agricultural grazing land.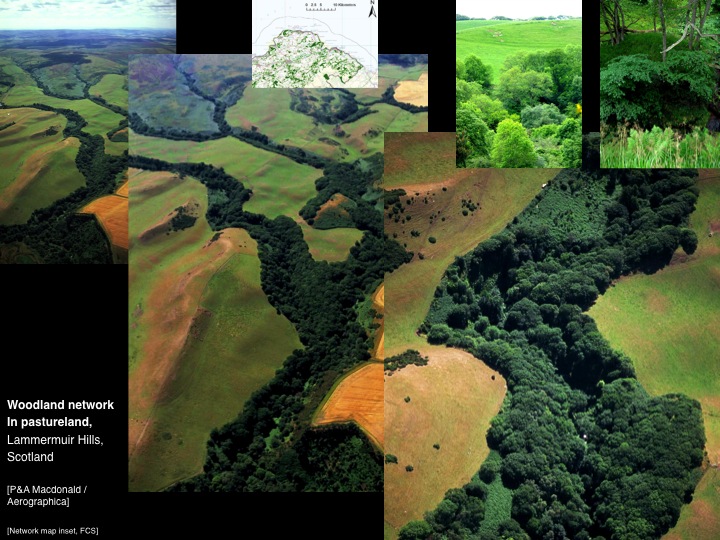 For text of this article and more images of the Lammermuir Hills, see:
http://www.ft.com/cms/s/2/d52cc4c6-192c-11e0-9311-00144feab49a.html#axzz3UIaAvVpD
http://www.ft.com/cms/s/0/d5a1ba46-193c-11e0-9311-00144feab49a.html
See also the following recent articles (more details in Updates):
2017: 'Disturbance and resilience in a hIghland glen', Macdonald, Patricia, After the Storm, Edwards, Ian (Ed.), Royal Botanic Garden Edinburgh, Edinburgh, pp 22-31
2016: 'Change in Glen Feshie: environmental change in a dynamic Cairngorms landscape', Macdonald, Patricia, The Nature of Scotland, Scottish Natural Heritage, Battleby, pp 12-17 [or online at: www.snh.gov.uk > Publications, data and research > Publications > Our magazine > Issue 24]
More examples of educational and press projects coming soon.