Patricia Macdonald's large composite artwork, 'Burnt moorland: grouse shooting', from her ongoing series The play grounds, forms part of the current exhibition, '10 from the North / 10 bho Tuath' at An Lanntair, Stornoway, Western Isles, 10 March – 14 April 2018.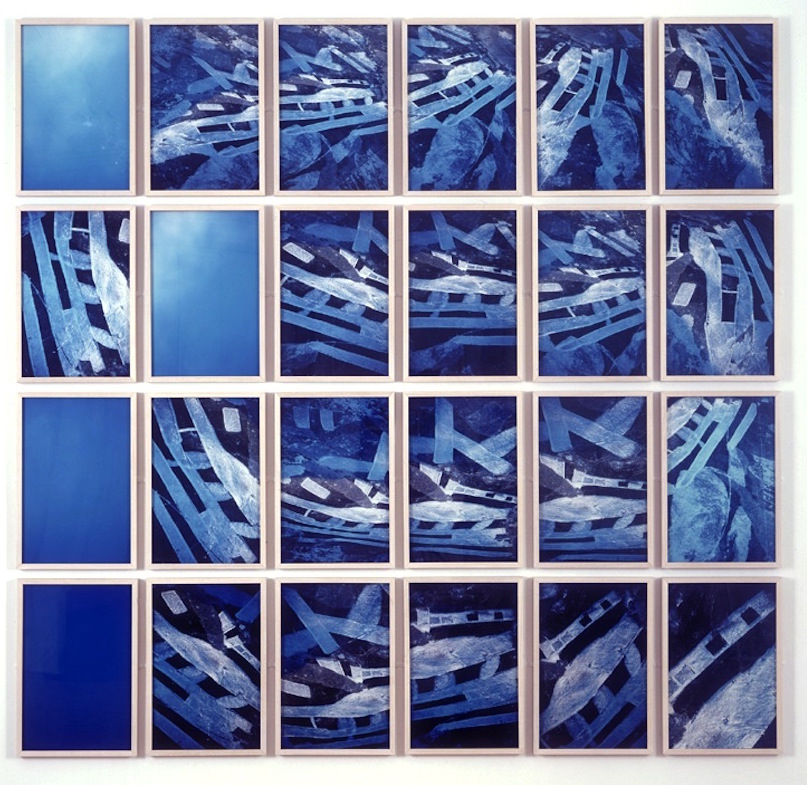 This exhibition of new photographic work from Scotland and the Nordic countries showcases some of the most interesting contemporary imagery being made by female practitioners. The Scotland-based Wildfires collective features established names such as Patricia Macdonald with her work 'Burnt moorland: grouse shooting' and Sophie Gerrard with her Drawn to the Land series focussing on women involved with farming. The exhibition also includes a wide variety of approaches to image making, with new work by Karen Vaughan, Margaret Mitchell, Sylvia Grace Borda, Miriam Chefrad and Kotryna Ula Kiliulyte.
New photography from Nordic countries is also represented, with Icelandic photographer Sigga Ella's First and Foremost I am, Norwegian photographer Andrea Gjestvang's work focussing on the women of the Faroe Islands, and Finnish photographer Iiu Susiraja whose work offers a surreal exploration of self-portraiture.  
The exhibition is a curatorial collaboration between Dr Katherine Parhar of Wildfires and FÒCAS Scotland, Alex Boyd of An Lanntair and the Flow Festival of Photography.
For more info on the exhibition, please visit:
http://lanntair.com/events/event/10-from-the-north/
'Burnt moorland, grouse-shooting' (24-part work), Central Highlands, Scotland, 1998-2001, from ongoing series The play grounds
Patricia Macdonald in collaboration with Angus Macdonald 
This is a grouse-moor – a deadly board game – seen from the air after a light fall of snow. The dark patches are tall, growing heather, and the lighter areas those that have been more recently burned as part of the intensive management procedures used for driven grouse-shooting, which have changed this 'wild' place into one of the landscapes of industrial agribusiness.
In this piece, the moor is seen simultaneously in various spatial ways and from various points of view, including that of the hunted grouse. It considers ideas of freedom and constraint, of hunting and being hunted, and different systems of perception. It contrasts two superimposed versions (actual and conceptual) of the linear grid of mechanist modernism with the nonlinear, circling feedback loops of the 'strange attractor', one of the mathematical 'signatures' of the holistic, 'organicist' world-view.