Patricia + Angus Macdonald were recently invited to contribute aerial artwork (see below) to a definitive new international survey of landscape photography, Landmark: The Fields of Landscape Photography, authored by the eminent curator William A. Ewing (Thames & Hudson, 2014). They also participated in the seminar accompanying the UK launch of the book at Tate Modern, London, in November 2014.
Landmark: The Fields of Landscape Photography
"William A. Ewing has curated what is surely the defining overview of the contemporary approaches to landscape".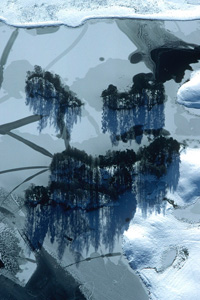 'Melting ice' (triptych), Loch Moraig, Forest of Atholl and Lochan Mathair-Eite, Rannoch Moor, Scotland, #2, from Change of State series
from Landmark: Patricia + Angus Macdonald

Launch seminar for Landmark book, Tate Modern, London, November 2014: Panellists (right to left): William Ewing (Chair), Thomas Struth, Massimo Vitali, Mishka Henner, Penelope Umbrico, Lauren Marsolier
Landmark has been described as "the first truly international survey of a vibrant, burgeoning field", "a thought-provoking meditation on the meaning of landscape in today's world", and "a definitive study of contemporary landscape photography in all its conceptual variety".
In his review of the book, Francis Hodgson of The Financial Times commented:
"Landscape suits photography. You can't get away from either. But it is quite often treated in pictures as it is in the world: it's in the background, not necessarily the main subject. This vast field, approachable from so many directions, has been a little daunting for those who would like to make ordered sense of it.
William A. Ewing has curated a defining overview of the contemporary approaches to landscape. With an illuminating text explaining his own waymarks and signposts, and without making any bones about its being a necessarily personal selection, he gives us here a chance to reclaim landscape photography from its fractured state and see it in the round."